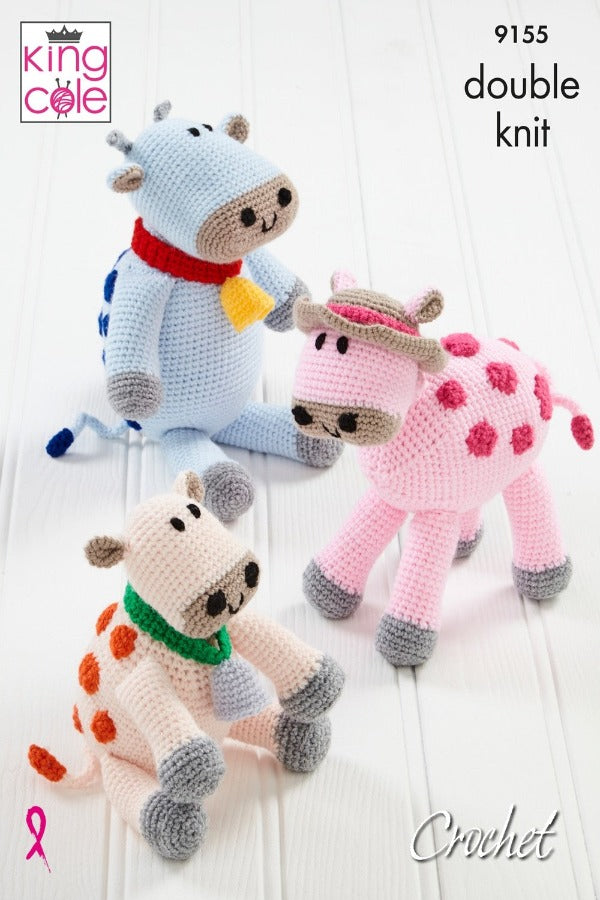 King Cole Big Value DK Pattern 9155 - Amigurumi Crocheted Cows
$5.00
 King Cole Big Value DK Pattern 9155
Amigurumi Crocheted Cows

This is another great offering in the King Cole tradition - great quality and great price. This is a 100% premium acrylic blend which is soft and gentle but now in a 50g ball. Beautiful range of shades for you to enjoy.
All Cows
platinum 4051
1
black 4053
1
toffee 4070
1
Baby Cow (h 15cm, l 14cm)
blush 4058
2
orange 4028
1
emerald 4050
1
silver 4057
1
Mummy Cow (h 21cm, l 17cm)
4062 petal
2
fuchsia 4034
1
Daddy Cow (h 23cm sitting, h 30cm standing)
sky 4063
2
royal 4041
1
red 4029
1
yellow 4027
1
Alternative Yarns:  Amounts may vary:
Hook size: 3.50mm
Additional Requirements:  toy stuffing
Tip: Make a note of the leaflet number and the number of balls for your size before going to the yarn page to view colours
Please Note: It is essential to work to the stated tension to achieve the correct size of the garment.